As we grow older, time, for the most part, seems to pass faster and faster. The days, the weeks, the years, all seem to disappear in a blur of time. Two notable exceptions are the two months named after those ancient tyrants, Julius and Augustus Caesar.
When our present calendar was established in the 1600s, the designer must have had great disdain for the Caesars, especially Augustus as his name was given to the awful "dog-days" of August, the worst month of the entire calendar. Even now these two months seem to drag by. Especially when this year they were the two hottest on record for the past 30 years.
Eventually, these months did pass, albeit slowly. Nothing at all like they flew by during our grade school years. September finally arrived with the great promise of October coming and we hopefully watched as the temperature finally started to moderate.
Favorite Time Of Year
Is there any month of the year more beautiful than October? The crisp fall mornings, the warm afternoons, the leaves starting to turn into so many beautiful colors, the first hints of frost on the pumpkin. Best of all, the arrival of hunting season.
This was to be a grand and glorious season for me. I would hunt Idaho early and then travel to Texas for whitetail deer, turkey, javelina, and perhaps, an exotic or two as I journeyed first to the YO Ranch, and then on to West Texas. Specifically to Crockett County, once again to enjoy my favorite hunting spot, the Penn Baggett Ranch outside of Ozona.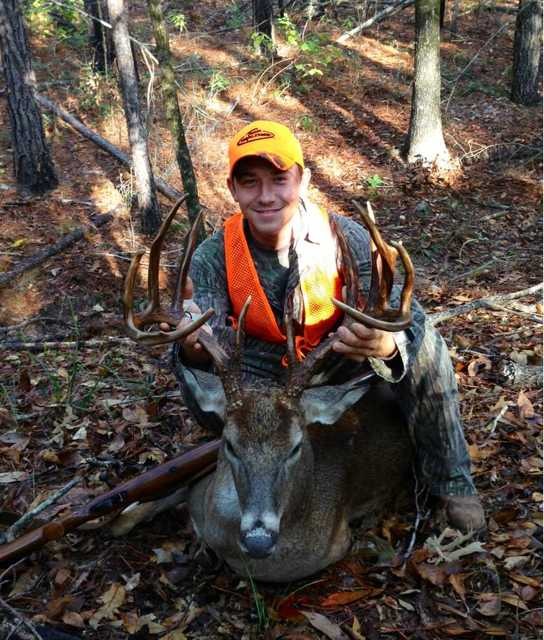 Someone once said: "I am closer to God in my garden than anywhere else on earth." Obviously, that person never climbed into a deer blind in West Texas several hours before daylight, nor sat in one in the evening.
At one end of the day, one is able to sit and think in pitch black darkness with no distractions or interruptions of any kind. As eyes become accustomed to the darkness, shadows begin to take form. Is that a deer out there? Perhaps a javelina close to the ground? Long before the sun comes up, slowly light fills the landscape and the shadows become rocks, or bushes, or trees, and sometimes, a magnificent buck or trophy javelina.
At the other end of the day, one enters the blind in the heat of the afternoon and is able to enjoy the dropping temperature and some of the most beautiful sunsets on earth.
A Special Place
It is hard to explain what is special about the Baggett Ranch that has caused it to become my favorite hunting retreat. There is certainly nothing fancy about the Ranch. We have not transported around in plush vehicles, in fact, we usually find ourselves in a Suburban or Ford pickup that has been running for at least 30 years. No grand hunting lodge either, simply a steel building with a gas heater, bunks, and hot water.
The hunting for whitetail, turkey, and javelina is great, however, one is not all that likely to find a Boone & Crockett trophy. No, there is something else that draws us there, and that is the people.
Penn Baggett is simply good folk, and anything he may lack is more than made up for by two of the loveliest of Texas belles, his wife Lara, and their daughter, Leana. One never feels like a guest, but more like family thanks to these three. Leana is now in her last year of college, and it has been a great pleasure for many of us to watch this young lady grow. She whipped up many a great dessert for us over the years.
Those who are regularly at the Baggett Ranch read like a Who's Who of sixgunners. It has been my good pleasure to run into peers such as Brian Pearce, Bart Skelton, Jim Wilson, and John Wootters. Even the late Bill Jordan, who literally lived for turkey hunting, especially enjoyed the Baggett Ranch.
Other notables who are regulars on the Ranch and whose company I have enjoyed include gunsmiths Hamilton Bowen and John Gallagher, Bob Baker of Freedom Arms, Ashley Emerson of Ashley Research, Hodgdon's Tom Shepherd, and even two editors from those "other" gun magazines, Dave Scovill and Jim Bequette. Much breaking of bread and swapping of tales goes on in such good company.
Enter Mister Murphy
Yes, I was ready to go to Crockett County once again, and then another personality entered the picture, the man by the name of Murphy. Every reader certainly knows Murphy and his inescapable Murphy's Law, which simply says "If something can go wrong, it will." And this year, go wrong it did.
For several years my wife has been facing the prospect of having a hip replaced. It has not been an easy task talking her into this, but she finally accepted the necessity of dealing with this problem. She conferred with a doctor, a date was selected that would work for both of them for the operation and recovery, and, thanks to Murphy, it just happened to fall at a time that would blanket the Texas hunting season.
All of my life I have been taken care of by special women. A mother; my grandmothers; by three daughters, even though one is a daughter-in-law; and most especially, my wife. She has not had the easiest person to live with, and for most of our married life, our house has looked much more like a hunting lodge than a home. (Actually, I think she prefers it that way!)
Now, for the first time in 43 years, the tables are reversed and it is now to be my turn to take care of her. The doctor says the recovery will require about three weeks, and it will be necessary for someone to be with her. Yes, I could hire someone to do it, but somehow that just doesn't seem right. Hunting is important to me but it pales in comparison to family responsibility.
Hopefully, the Baggett Ranch will be their other years. My stand will still be along the creek bottom, and the buck I don't take this year may even be a little bigger next year.
Besides, there was still October in Idaho. My plan would be to pack a big bore sixgun in a shoulder holster and make some leisurely trips into the mountains scouting for deer and elk. I would walk the old logging roads, hoping to stir something up. Nothing compares to October in the Idaho mountains. Ah, but I forgot about Murphy and he struck again!